UPDATE: Great minds think alike.
Now it's been fairly obvious to those of us that are skeptical of Anthropogenic Global Warming that nobody advocating AGW has been practicing real science, and the specific facts are now beginning to come forward as to just how egregious the evasion of practicing real science in terms of AGW has been. Fantastic evidence is provided today by the
Science and Public Policy Institute
in a report titled "United States & Global Data Integrity Issues." (Hat Tip to
Tamron in LGF's spinoff links
)
The report discusses the in depth research being done on a voluntary basis by Anthony Watts, which you can view for yourself at
surfacestations.org
and at
wattsupwiththat.com
. Watts is in the process of discrediting the actual source data that has been compiled from over 1,200 temperature stations across the United States. He's currently two-thirds of the way through cataloguing their locations and histories, and so far the vast majority of the stations have been showed to be located in spots that are excessively and abnormally hot, such as in the middle of asphalt parking lots, or next to air conditioning unit condensers. In some cases, the histories of the units show that as the concept of AGW began to be politicized, the units were actually moved from more appropriate grassy locations to these abnormally hotter locations.
We are beginning to find that, much more than being just a movement with religious overtones, that the concept of AGW has been an outright lie even from the start. The concept of GIGO (garbage-in, garbage-out) applies to any dataset analysis, no matter how large. And this is even further reinforced by Al Gore and his people today.
Timothy Birdnow
points to a CCNET report today about a
debate over AGW
, sponsored by Christchurch's Avenues magazine, that featured Gerrit van der Lingen and Bryan Storey. The main part of Birnow's post is the following:
In Dr van der Lingen's argument, he made the observation that Al Gore refuses to debate the points in his film, An Inconvenient Truth. In Professor Storey's response he said, quote:

"Our professional bodies recommend that we do not publicly engage in debates over climate change as it gives a platform for the vocal minority to express their views, often scientifically incorrect or carefully selected to distort a longer term trend. This will undoubtedly be the advice that the former US Vice President Al Gore will have received, influencing his decision not to engage in televised debates."
Now, I haven't had to do experimentation via the scientific method in a while, but I'm pretty sure I distincly remember that if you get results that are debatable, you're supposed to discuss the different options as much as possible and rethink your tests. Looking it up, it seems my recollection is correct: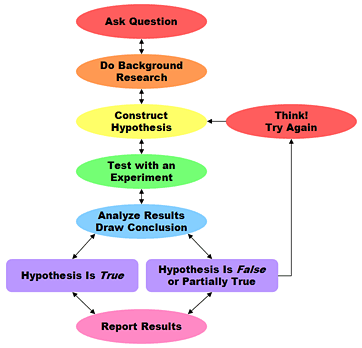 The most important part in that chart is that if your hypothesis is false or only partially true, you're supposed to stop, think, and try again. It is scientifically irresponsible, immoral and unethical to manipulate your data to achieve results that "prove" your hypothesis. This puts ego in front of fact and does an extreme disservice to science and one's audience.
Bryan Storey suggests that his professional bodies, the gatherings of members of the scientific community that regulate the way these scientists practice their professions, are the ones directing them not to follow the scientific method. The scientific method is the very first thing we learn as children about how to experiment objectively. This indicates that the fallacy of AGW runs to the highest levels of the scientific community, and that politics (and the money gained therefrom) is ultimately what is driving the decisions being made. This indicates that the majority of the scientific community, and their prophet of catastrophe, Al Gore, has decided not to stop, think, and try again when they might not be on solid ground.
But when you've got a multi-million dollar carbon-trading scheme to maintain, I guess it's too much for me to expect that anyone should actually think.